The developers behind EA FC 24 have exciting news for the gaming community. An upcoming update is on the horizon, bringing with it a series of changes that will impact the way you play. In this article, we'll dive into the patch notes for EA FC 24 Update 4, highlighting the modifications that are set to roll out soon.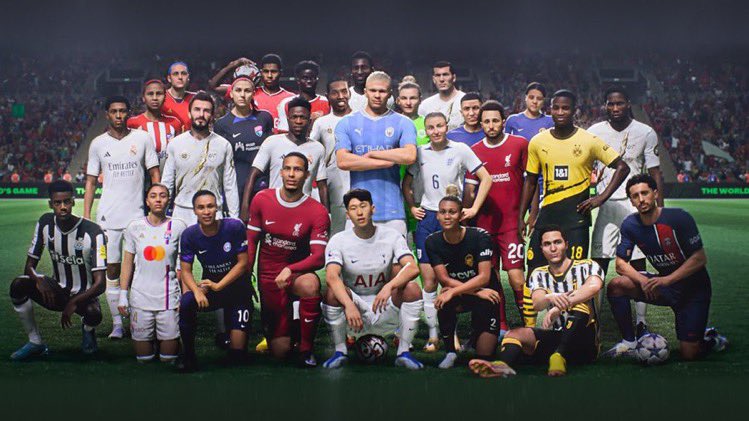 Gameplay Evolution
EA FC 24 has been a topic of debate within the gaming community, with players sharing mixed opinions on its strength. The introduction of the PlayStyle feature has garnered positive feedback for its ability to set cards apart from one another. Evolution, allowing players to upgrade Ultimate Team members, marks a significant shift in the game's dynamics. While Evolution players aren't prevalent in opponents' squads just yet, the developers have more options in the pipeline, making it clear that these cards will become increasingly viable.
However, not everything is sunshine and rainbows in the world of EA FC 24. The game has faced criticism for a range of issues, from troublesome glitches to players exploiting a 71-depth defensive strategy to pin opponents in their half of the field. Some PlayStyles have dominated over others, creating an imbalance that has irked the player base.
Proactive Balancing Efforts
In response to these concerns, the game developers have taken a proactive stance, working to address these issues in the early stages of EA FC 24's lifecycle. The most recent announcement of Update 4 showcases their commitment to refining the gaming experience. Let's take a closer look at the key changes outlined in the patch notes:
EA FC 24 Update 4 Patch Notes
While a precise release date for Update 4 has not been specified, EA Sports has confirmed that it will be available for all versions of EA FC 24 soon.
Ultimate Team Enhancements
The developers have made the following changes:
Addressed various issues, including:
The penalty kick accuracy indicator was invisible during penalty kick shootouts in Champions matches.

A visual bug where a Bronze Tifo incorrectly displayed for some Rivals Milestone Stages.

Challenges with placing specific Player Item pairs in the same squad, such as Gerd Müller & Bobby Charlton, Franck Ribéry & Jairzinho, and Abily Camille & Xabi Alonso.

Incorrect display of the Founders Evolution Player Item.

An issue where exiting the Transfer Target compare price screen after bidding on a Player Item did not work as intended.

Visual problems in the New Item screen when swapping duplicate Items for tradable versions and the Quick Sell value not displaying.

Inability to automatically scroll longer Pack descriptions in the Store.

In Rivals, the pause menu displayed the opponent's Squad name instead of the Club name.

Season Progression tifo rewards were sometimes unavailable for preview.
Gameplay Improvements
Several changes have been introduced to enhance gameplay:
Reduced the degree of curve on first-time Precision Passes taken at extreme angles.

Slightly decreased the potential accuracy of acrobatic shots.

Players will now prefer to use the foot closest to the touchline when crossing from a wing position (except for Trivela Crosses and High Crosses).
The patch notes also address various issues, including problems with ball behavior, passing accuracy, shot animations, goalkeeper actions, and more.
Career Mode Fixes
In Career Mode, the following issues have been resolved:
Continuing press conference tutorials after the first press conference in Manager Career.

Scout Reports for lower league clubs displaying reports for high OVR top league players uninterested in moving to a lower league.

Absence of GK PlayStyles, Any PlayStyles, and None scouting instructions in Career Mode.

Incorrect display of expiring contracts warning in Manager Career, even when other contracts were renewed.

Correcting the Brand Exposure Objective in Manager Career.

Adjusting the frequency of the "Read A Book By A Club Legend" Activity in Player Career.

Accurate display of the offered contract's target team at the end of a Player Career season.
Club and VOLTA Improvements
The developers have also addressed a range of issues in clubs and VOLTA mode, making the gaming experience smoother and more enjoyable for players.
General, Audio, and Visual Enhancements
Several general changes have been implemented, including updates to UI elements, crowds, broadcast packages, stadia, and audio. Additionally, 17 new starheads have been added, with one updated starhead to look forward to in the next server release.
Conclusion
EA FC 24's Update 4 promises to bring significant changes and improvements to the game, addressing issues and enhancing the overall gaming experience. While a precise release date is yet to be confirmed, players can look forward to a more balanced and engaging experience in the near future. Stay tuned for further updates from EA Sports as they continue to refine EA FC 24.