Electronic Arts (EA), the renowned publisher of FIFA, has recently announced a major shift in the pricing model of FIFA Points. This decision impacts certain regions and is set to be implemented before the highly-anticipated launch of EA Sports FC 24 later this year.
The Catalyst: Changing Economic Conditions
A couple of weeks ago, EA disclosed its plans to introduce price alterations for an undefined selection of games, citing "shifting economic circumstances" as the primary reason1. This adjustment was scheduled to come into effect from June 1, impacting a range of titles, including Apex Legends and Madden 23, among others.
Interestingly, EA's price balancing initiative currently applies exclusively to certain regions. Given the latest revelations, it's crucial for FIFA players in the affected territories to stay updated on these price changes.
EA Rolls Out FIFA Points Price Modifications
In a recent announcement on EA.com, EA unveiled that FIFA is the latest game title to experience a pricing update. According to the announcement, "In response to ongoing global economic fluctuations, including noteworthy shifts in currency valuation, we're striving to harmonize the prices of our live service content across all global currencies.".
This change means that from June 1, users in specific territories will observe price increases for FIFA 23's FIFA Points on EA.com and the EA App. Simultaneously, players in other regions will witness a price reduction.
Regions Impacted by the FIFA Points Price Alterations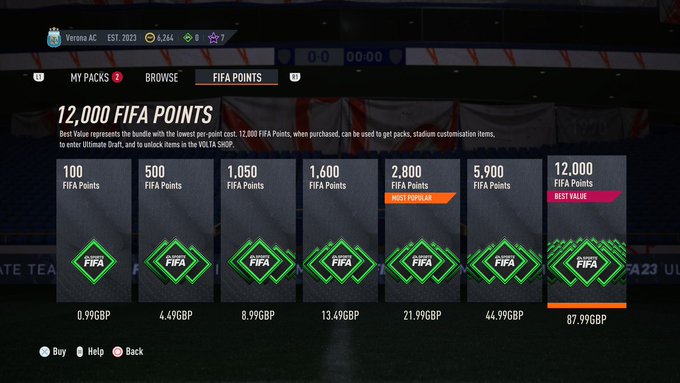 Analyzing the data provided by FUTBIN, it's evident that PlayStation owners in the UK will face a rather substantial increase. For instance, the former pricing model offered 100 Points for £.79; the same number of Points now costs £.99. Similarly, 12,000 Points that previously cost £79.99 will now require users to shell out £87.99.
The price modifications aren't restricted to the UK. FIFA players in other regions, excluding the United States where the prices seem unchanged, are encountering higher FIFA Point costs. For example, Twitch streamer CrispyTV shared that 12,000 Points in Australia, which previously retailed for $120.00 AUD, now carry a $150.00 price tag after EA's update. Furthermore, despite the EA Play discount, streamer DavisPlayzz highlighted that New Zealand has also experienced a sharp increase in FIFA Points prices.
It's worth noting that these changes currently apply only to PC and PlayStation platforms, leaving Xbox users unaffected for the time being. However, it remains uncertain if similar adjustments will eventually extend to Microsoft's ecosystem.
This diagram provides a clear overview of the chain of events leading to the FIFA Points price changes and the regions and platforms impacted by these modifications. These changes underline EA's attempt to adapt to the dynamic economic conditions and ensure a balanced pricing model for their live service content across all global currencies.