Are you ready for the upcoming FIFA 23 preseason tasks? In this article, we'll provide a detailed explanation of the tasks and address some common questions. One question that often arises is whether rewards can be transferred between different console series. Let's clarify this: PS4 and PS5 are considered the same console series, allowing you to share accounts and rewards between these platforms. Similarly, Steam, APP, and EPIC users can share rewards as they utilize the PC's EA APP software during game startup. However, keep in mind that Xbox and NS platforms are separate, so rewards can only be transferred within the same platform by using the same EA account.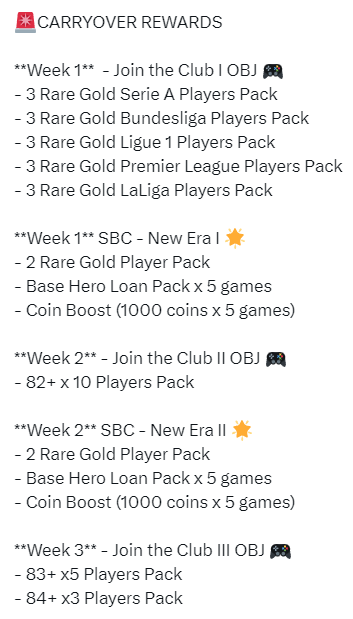 Now, let's delve into the rewards you can expect. All rewards are non-tradeable and will be distributed before October 12, 2023. To claim your rewards, simply log in to EA FC 24's Ultimate Team before November 12. The preseason rewards in the early stages of the game are truly impressive. If you're a dedicated FIFA player, it's definitely worth completing these tasks to receive the rewards. Among the rewards, you'll find 15 players from the top five leagues, including five players rated 83+, three players rated 84+, and four players rated 82+. These rewards are invaluable during the initial phase of the game. Additionally, you'll receive 10,000 coins that can be used to secure your desired players early on.
Now, let's address the difficulty of certain tasks that have raised concerns among players. First up is the "New Era" task, which is relatively simple. Every two days, you'll need to complete an SBC (Squad Building Challenge) using a full bronze lineup. Upon completion, you'll receive two Rare Gold Player Packs, a Base Hero Loan Pack (5 games), and a Coin Boost (1000 coins x 5 games). This task can be easily accomplished upon logging in. The second task, "Join the Club," offers even better rewards. In the first week, you'll receive three rare gold players from each of the top five leagues. This task isn't particularly challenging either. You just need to field a squad from each league and score a total of four goals. Victories are not required, so you can even score a goal and then indulge in other activities while the game finishes. Completing this requirement for all five leagues will take approximately 20 matches,each game takes about 15 minutes,so finish the task need about 300 minutes, equivalent to five hours. It can be completed in a single afternoon. With a task duration of 15 days, it's easily achievable within that time frame if you play at a normal pace.
Now, you might be wondering if these tasks are worth your time and effort. Well, it depends on your personal circumstances. If you're a free-to-play or minimal spender, these rewards are highly valuable, and we strongly recommend completing the tasks. On the other hand, if you're the type of player who already opens ten or twenty sets at the beginning of a new season and has sufficient resources to support your squad, you may choose to skip these tasks as you can obtain good cards through other means. Ultimately, it comes down to your personal energy and enthusiasm. If you have the drive to complete the tasks, go for it! However, if you're lacking the energy, remember that it's just a game, so don't stress too much. It's all about having fun. But if you're up for the challenge, it can be a worthwhile endeavor that sets you up for success in FIFA 23.