This article discusses several FIFA 23 cards that can be obtained or bought with coins. It covers the strengths and weaknesses of each card, such as Payet's versatility and Araujo's limited chemistry options. The article also mentions Thuram's improved TOTS version, Jesus' unique model and decent speed, and Rodrygo's excellent dribbling skills but limited physical attributes.

Payet:This is a free card that I personally believe is the most worthy to be redeemed from the Season 4 Progress Rewards without sacrificing the card pack reward. His rating has increased significantly from 4-star and 4-star weak foot in the Winter Wild version to 5-star and 4-star weak foot, which is a huge improvement. He is also a versatile forward who can play on the wing, as an attacking CM, CAM, or one of a pair of strikers. Most importantly, he is a French player in Ligue 1, making him very versatile for chemistry purposes. As long as he can make it into your starting lineup, you should consider redeeming him, although it's true that giving up the 85X10 limit of card packs is indeed an infinite opportunity cost.

Araujo: This is a pretty good card, with a chance to compete for the top CB spot in La Liga, but he cannot challenge TOTY Van Dijk, Giant Lucio, or Birthday Marquinhos. He can still have a place in the team below them, but the Uruguayan-Barcelona chemistry is not particularly easy to set up, and with the TOTY underway, there are almost weekly center-backs who are worth getting and not too difficult to obtain. Therefore, if you happen to have a La Liga-focused team or are a Barcelona fan, I recommend completing this SBC, but don't force yourself to match him with other players if it doesn't make sense for your team.
Thuram: This is the plus version of the future star Thuram, with all of his stats rising by 2-3 points. However, unfortunately, the times have changed a bit. When the future star Thuram was released in February, and now TOTS Thuram is released in May, 3-star and 3-star weak foot is his biggest flaw! But if you really like a defensive big player, his Ligue 1 French chemistry and a price of only 300,000 coins are still worth it. However, personally, I would prefer and recommend choosing the 5-star weak foot version of Birthday Guendouzi !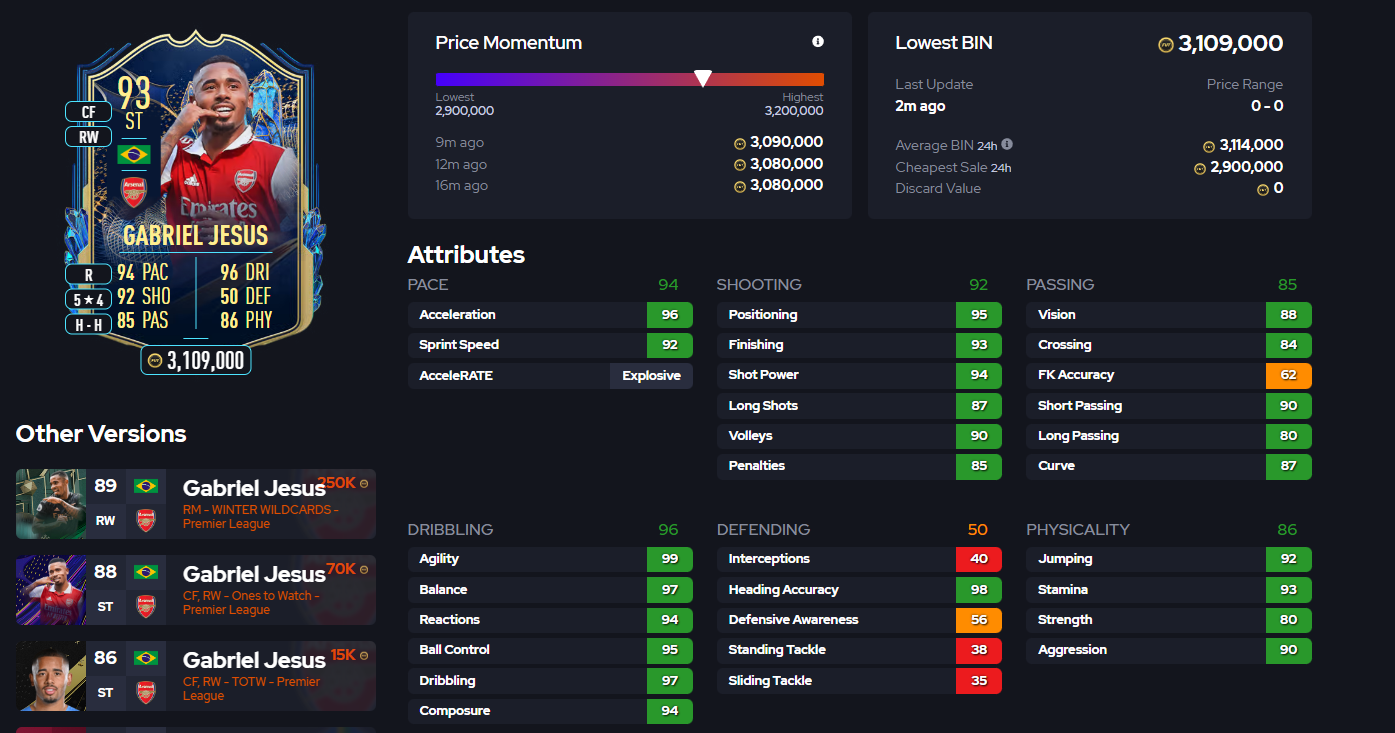 Jesus:This card is still very good, with a unique model, decent speed, and very quick movements. Although he isn't tall and doesn't look very strong, he has some ability to compete physically, and his finishing ability is decent. However, he doesn't have any shooting traits that can reach the top level. He is good on both the central and wing positions in the attacking third. Unfortunately, his current price is higher than that of the Annual Blueprint Ziyech and close to Birthday Cancelo. These two players are definitely stronger than Jesus in the central position (although if you prefer more agility, using Jesus is still fine), and Jesus is not necessarily better than Headliner Teixeira in the wing position. Therefore, in terms of cost-effectiveness, it is not very high, but it still has strength, so it's worth trying out if you like playing with new cards. If his price drops to below 2 million coins in the near future, he would be a good choice.
Rodrygo: This is a pretty good winger card. If you like agile and flowing players, Rodrygo may be one of your choices. He is fast and frequent on the wing, and his dribbling skills are extremely good with 5-star skills and 4-star weak foot. He might be an excellent choice for dribbling maniacs and fancy players. However, his passing vision is average, and he doesn't have any shooting traits. In addition, his lean model and 53 strength can make him quite vulnerable on the wing, so he may not be the best choice if you need a physical winger. Overall, he may not even be better than the free Payet. As of the time of writing, his price of around 1.6 million coins is quite discouraging. Last year's Rodrygo card, which was in a big showdown, was good because it was cheap, but this card has lost its cost-effectiveness, so its significance is not very high.
In summary, there are several FIFA 23 cards to consider that can be bought with FIFA 23 coins. Payet is a versatile French player in Ligue 1 that is worth redeeming as a free card. Araujo is a decent CB option for La Liga-focused teams or Barcelona fans, but may not fit well with other players. Thuram's TOTS version has improved stats but has a 3-star weak foot, while Jesus is a good card but may not be the most cost-effective option. Rodrygo is a fast and agile winger, but his passing and physical attributes may limit his effectiveness. Overall, it's important to consider a card's strengths and weaknesses and how they fit with your team before buying with FIFA 23 coins at buymmog.com.