Welcome back, Madden community! We're ranking the best ten budget players presently available in Madden Ultimate Team this week as part of our Top 10 series. By providing you with some suggestions for reasonably priced yet highly effective players, we hope to assist those of you who are just beginning to create your squads.
1. 86 OVR Donald Parham Jr (TE) - LAC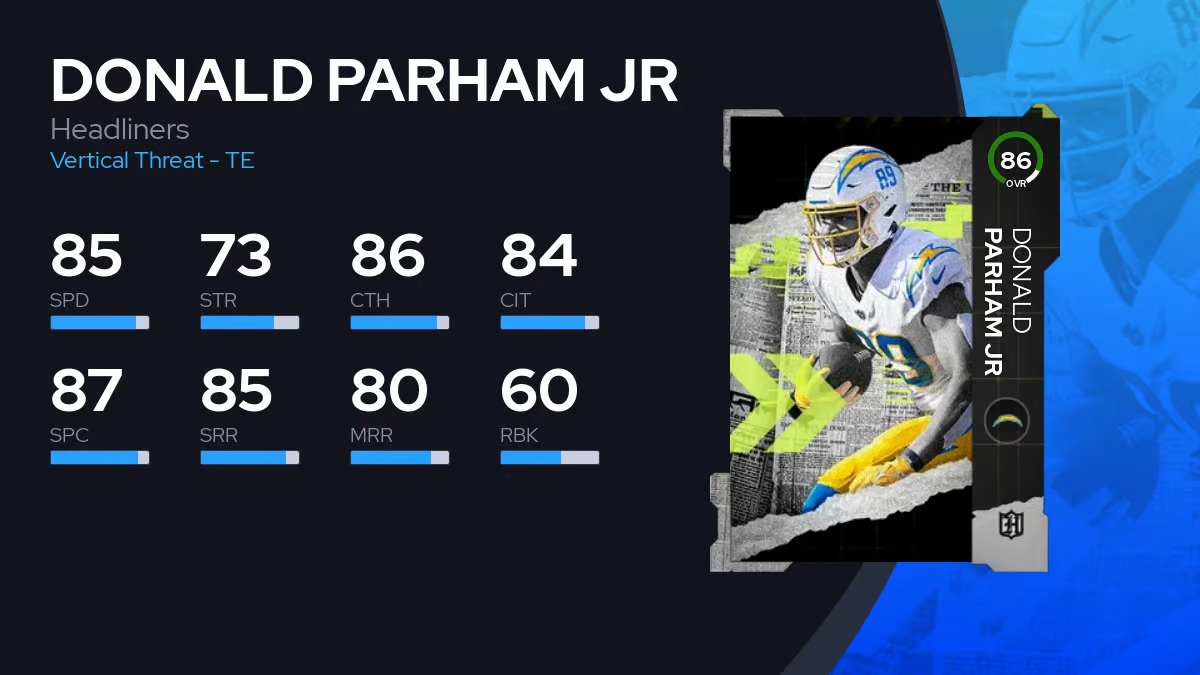 Parham is perhaps the finest receiver in Madden Ultimate Team currently, but at 70k coins, he's a little pricey to be at the top of our list of cheap players. He has 85 speed and is 6'8". To make some wacky mismatches, you may either retain him at TE or switch him to WR. You have undoubtedly been "Mossed" by him if you've played any head-to-head games this season. Regardless of your budget, he must be included in your starting lineup. If you can't afford his asking price on the auction house, you can get him for nothing by reaching level 13 on the Headliners Field Pass or 20 victories in House Rules.
2. 86 OVR Randy Moss (CB) - MIN, LV, NE, TEN, SF
Free is the definition of "budget" at its most basic. By completing all of the Madden tasks and accumulating 55 total stars, you can get CB Randy Moss. You'll need around an hour to complete it. Moss stands at 6'4", is quick (85 SPD), and for this time in the season, has excellent zone coverage (88). No matter how powerful your squad is, there should be room on the depth chart for him. He's a solid choice at CB if you're just getting started.
3. 82 OVR Caleb Farley (CB) - TEN
Farley provides tremendous value on the field for only 16k coins as you start to develop your secondary. He is 6'2" tall and has top end speed (87). When you're just starting out, you need a player like Farley so that you don't get beaten over the top on every play, even though you won't get fantastic coverage ratings for the money.
4. 82 OVR Kyle Dugger (SS) - NE
Dugger is a fantastic user defense choice that is affordable. He's just asking $23,000, but he stands 6' 1" and has an 85 SPD. He may be used as your SUB LB and in many common formations at MLB because he is a strong safety. There aren't many less costly alternatives at SS that are better than Dugger.
5. 84 OVR Marquez Valdes-Scantling (WR) - GB, KC
At WR, MVS is a good alternative, and he's only about 40k coins. 6'4" with an 86 speed, he. He can run deep routes at a respectable 85. Consider MVS if you need a terrific WR but can't afford All Madden Randy Moss (now $360,000).
6. 83 OVR Miles Sanders (HB) - PHI
You can also get Sanders for free by simply playing the game. The only need is to get level 11 on your Season 1 Field Pass, which is simple to do when playing MUT. Although he's not the best HB in MUT, he adds a lot of value to your lineup construction and doesn't cost you anything.
7. 84 OVR Daniel Jones (QB) - NYG
Jones is a respectable choice to start at quarterback for your club at the current asking price of $43,000. He possesses a respectable 85 throw power and throw accuracy (85 SAC, 82 MAC, 85 DAC). Additionally, he has an 80 speed, which allows him to sprint on a broken play and gain a few yards. Consider starting Jones for a bit if you currently cannot afford to start one of the elite quarterbacks in MUT.
8. 84 OVR Jeremy Chinn (FS) - CAR
Chinn offers tremendous value at free safety for $23,000. He lacks excellent coverage (73 MCV, 78 ZCV), but he has excellent physical characteristics. He has 84 speed and 87 leaping, and he is 6'3". Because you won't need his coverage ratings at that moment, think of him as your user safety.
9. 80 OVR Marquise "Hollywood" Brown - BAL, ARI
You can achieve top end speed (85) in Hollywood for simply 10k coins. There is simply nothing else you can get for that price. Early on, having a player who can overwhelm a defense is crucial. Pick up Hollywood if you're just getting started and lack speed at WR.
10. 71 OVR Tariq Woolen (CB) - SEA
Woolen screams "Future Golden Ticket" to anyone who would listen. He stands 6'4" and weighs 85 SPD. He is presently available to purchase on the auction house for 6k coins. You won't receive any coverage ratings for 71 OVR and 6,000 coins, of course. However, if you wanted to deploy a safety, you could easily replace him and get excellent results by appointing him as your user defender.
Conclusion
That's all about the best 10 budget players we choose, and hope you can build a team with these players to win the game. But if you want to build an even more expensive & strong team, go and buy our cheap madden 23 coins with safe and fast delivery.