Madden NFL 23 is planned to release on August 19, 2022 12:00 PM GMT+08:00
What's New in Madden NFL 23
EA has revealed the gameplay changes coming to Madden NFL 23, including the addition of fan-requested features in its Franchise mode. Franchise mode has been heavily criticized in recent years, similar to Career Mode in FIFA or MyGM in NBA 2K. Still, Madden NFL 23 promises a built-up and refined version that features staff management, weekly game planning, and scouting.
Improved trade logic, new free agency tools, and enhanced scout decision-making also contribute to greater authenticity, all complemented by a simplified user interface intended to enhance franchise-building capabilities.
There have been some upgrades to the Face of the Franchise mode for those who wish to start a solo career, including the addition of the cornerback position. In addition to the improvements to Franchise mode, there are improvements to Trade mode as well.
FieldSENSE is a brand-new concept that EA is integrating into Madden 23 and describing as "a new basis for continual, ultra-realistic gaming." This alters how players interact with one another both above and below the surface through the use of branching animations that EA is referring to as Hit Everything.
FieldSense, EA's new technology that gives players control of every position on the field, underpins the consistency and ultra-realism of Madden NFL 23's core systems.
This materializes in a few ways. It will be easier for the defense to adapt, as with midair knockouts, tackling piles to assist in tackles already in progress, blowing up blocks, and forcing turnovers.
What's Madden 23 Cover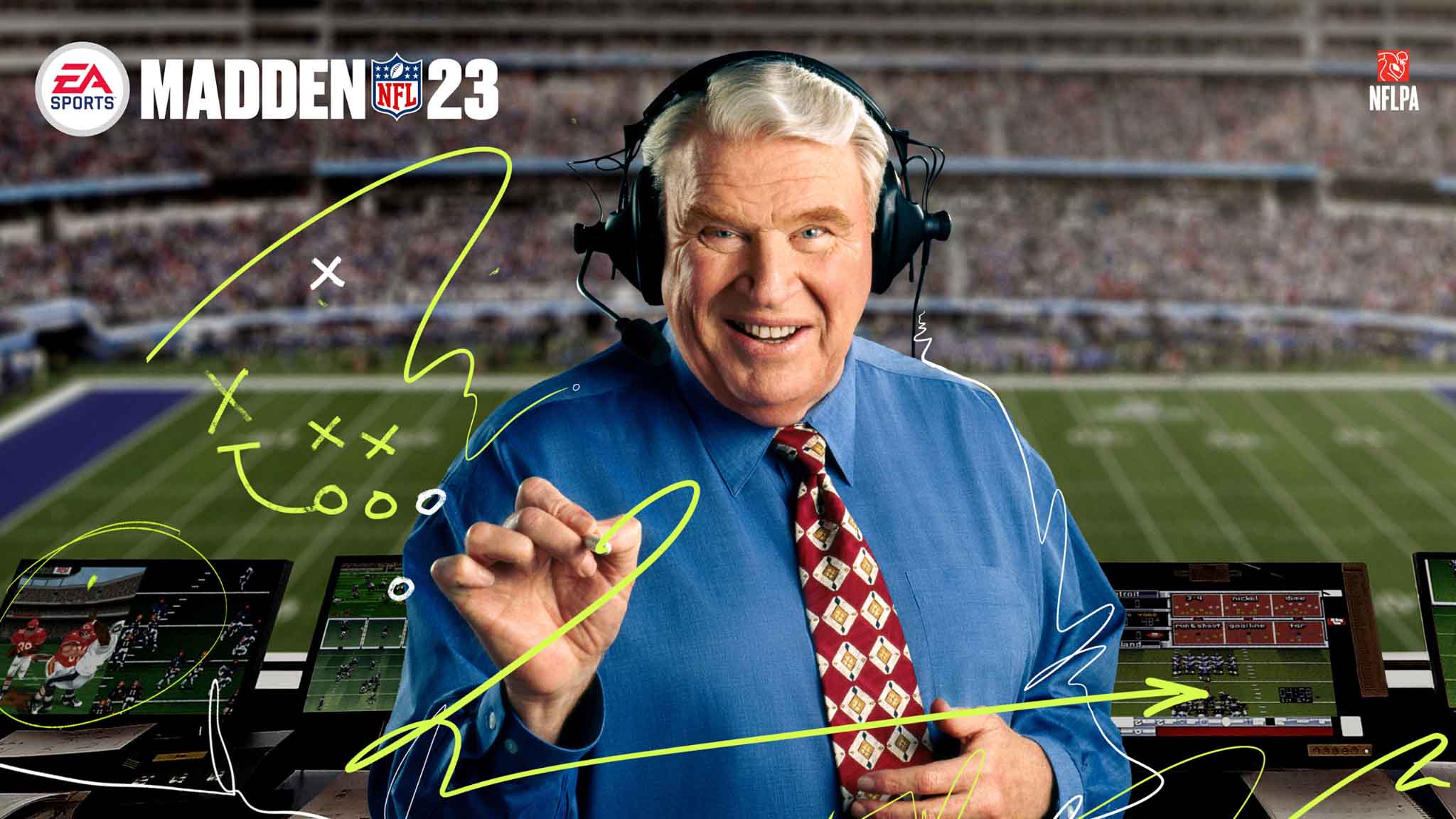 A new Madden game usually features an exceptional football player on its cover. John Madden himself appears in this season's installment. He passed away in December 2021 at the age of 81. Thus, placing him at the center of this year's game is a fitting tribute to the man who gave this franchise its name. A fun fact: Madden first appeared in 1988. As a legend of coaching, broadcasting, and involvement with the Madden NFL franchise, the Madden 23 cover honors him with reverence.
What's The Platform of Installment
Madden 23 will launch on PlayStation 4, PlayStation 5, Xbox One, Xbox Series X|S, and PC, but some features will only be available on Xbox Series S|X and PS5.
For Windows users, the recommended requirements are:
OS: 64-bit Windows 10
Processor (AMD): FX 8150 @3.6GHz or so
Processor (Intel): Core i5-3350 @3.40GHz or Equivalent other processors
Memory: 12 GB
Graphics card (AMD): Radeon R9 270x or so
Graphics card (NVIDIA): GeForce GTX 680 or so
DirectX: 11 Compatible video card or so
Online Connection Requirements: Broadband Connection Hard-drive space: 50 GB
Buymmog

Outstanding to Trust
We provide safe and instant coins, you can buy MUT23 coins from Buymmog in the future after the game has been released, at a more favorable price. We have benevolent customer service on the dependable platform available 7 days a week. Myriad EA players choose and trust Buymmog.com, which explains why they are prosperous. Simply choose the platform and choose the precise coins you desire, and finish placing your order. You may immediately create a potent, unbeatable Ultimate Team thanks to their rapid currency delivery. You could have a try!